International Year of planetearth 2008 Mosaic Exhibition - Artists Directory
---
Irit Levy - Monaco - Contact Details : Levyirit@hotmail.com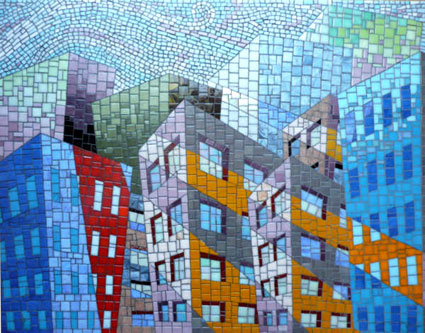 Untitled (Megacities)
Artist Statement
I was born and raised in a small town in Israel. Big cities then were both appealing to me as well as frightening big mazes. As the future later proved, these cities were more appealing to me than frightening, because as a young adult I moved to the big city, and though I move a lot around the world, I always end up in a big city's center.

I am attracted to colors and shadows in my works.

I tried to achieve all these in this piece.

| | |
| --- | --- |
| | |
| Megacity London (Megacities) | Groundwater |
Artist Statement
Groundwater

The growing population of the planet means an increasing demand on the most important resource on the planet – water. The beautiful azure colours of gold smalti (used in reverse) and mirrored glass represent the flow of water set against the natural roughness of slate representing the Earth's crust.

Megacity – London

An aerial map of London showing how the city is growing ever larger was the inspiration for this mosaic. A combination of vitreous glass, stained glass and mirror was used – red to represent the urban sprawl, green for the countryside, and the iconic shape of the River Thames a silvery-blue mirror.
---
| | |
| --- | --- |
| | |
| Sea Cycle - Detail (Ocean) | Sea Cycle (Ocean) |
Artist Statement
This mosaic represents the continuing and repetitive cycle of the ocean. On one hand the ocean provides and sustains life for a wide variety of living things from plants and fish to the largest mammals known to man. Equally the ocean is a threat and a danger to mankind. Man can exist with the ocean but can never control the power it holds. The Chinese junk which perches precariously on the huge wave is a symbol of this vulnerability as it could be engulfed by the water. Meanwhile, below the wave which has the power to erode and destroy coastlines the water is teeming with life. The ocean is timeless and oblivious to man's struggle to survive.

---
Dugald Macinnes - Scotland - Contact Details: www.dugaldmacinnes.com
| | |
| --- | --- |
| | |
| Once in a Life Time: Water Flowing Underground (Groundwater) | Once in a Life Time: Water Flowing Underground - Detail (Groundwater) |
Artist Statement
Statement: The title, taken from a Talking Heads song, has a direct poignancy with the mosaic. Water, an essential element for life itself, is a precious resource; one that we abuse and take for granted.

Rainwater percolates into our earth and there it collects in subterranean reservoirs or it is 'recycled' back into the atmosphere via volcanic and other heat-related phenomena.
A degree in geology, stemming from a lifelong passion for all things stone, has provided me with such an insight onto the workings of this fragile little planet.