International Year of planetearth 2008 Mosaic Exhibition - Artists Directory
---
Francoise Moulet - France - Contact Details : fm@horizon-mosaique.fr
| | |
| --- | --- |
| | |
| Kind of Magic (Earth & Health) | Kind of Magic - detail (Earth & Health) |
Artist Statement
The art of mosaic is about patience and long lasting creation, a complete contrast to the everyday rush of our lives, when speed of action may be more important than actions themselves…
"Kind of Magic" is my tribute to our Planet Earth honoured this year, magic and fragile Planet Earth. Our planet of today is the result of the incredible processing of so many interactive events, sometimes so tiny… or so huge !

It is what I express in "Kind of Magic" : Planet Earth, so big, as well as so small, depending on your point of view, sheltering a baby to be born, that magic moment of hope ! Jean, born January 25 (with two months advance !) is the baby of my mosaic, cute and touching hero of this 2008 year ; he could have been born in 2007 (as he was almost certain to be born prematurely anyway) but he patiently waited until the end of January to say "hello !", and also because he is so delicate, and so strong already !

The message "Care" is voluntarily big, within each letter is a representation of Air, Water, Fire and Earth, through which combination and harmony lasts for millions of years, and which it is urgent to care about, today, now.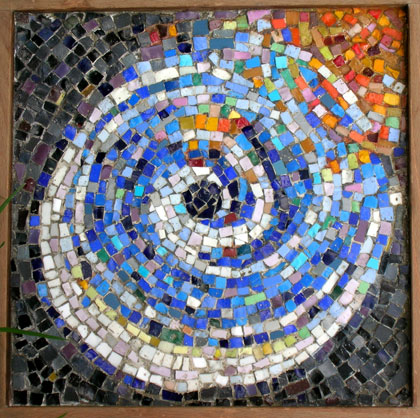 Life on Earth
Artist Statement
The subject of Earth , its cosmic character, its rotating in time and space and also its remaining warm home to everybody: the mother - planet giving us warmth and breath the
" Beautiful Blue Planet"
---
| | |
| --- | --- |
| | |
| Light Urchin (Resources) | Light Urchin - lit & Side view |
Artist Statement
Found and reclaimed materials play a key role in the meaning of this piece demonstrating sustainability of resources in design. The materials themselves were the starting point for inspiration aiming for natural light to play through and around the surface as well as show-off the delicious qualities of the sea-worn glass. I also wanted the work to have a day and night function hence the additional illumination of the rose coloured glass dome ground from within powered by low energy source. Initial ideas revolved around the sun and as the work evolved it took on an organic growth-like form further emphasised with the forged stainless steel tendrils.

The pieces are adhered with marine sealant so the work is durable for outside display too.
---
Jan OHighway - England - Contact Details: www.janohighway.com
Timeline & Tideline (Resources)
Artist Statement
Created by collection the jetsam and flotsam from the beach left behind by human waste.
Reusing and Recycling.